Indian Polity MCQ Model Question Answer Objective Sample Paper Set
Hundreds of Indian Polity MCQs are given below. This Multiple Choice Objective Type Questions from Indian Polity & Constitution came in several Govt Exams like Civil Service UPSC, State Civil Service, Grade B C or D exams, LDC, Police Exams etc. These MCQ questions are also important for upcoming Govt Job Exams which contains a subject from Indian Polity. Now a days most of the written test / recruitment exams / online test contains Questions from Indian Polity.
Important Indian Polity Questions: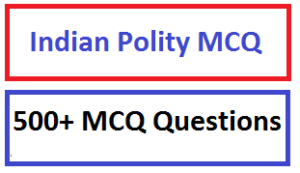 Indian Polity is the study of form or process of civil government including Indian Constitution. Chapter wise Indian Polity MCQs for Competitive Exams is also important but here we have provided mix MCQs which will help you revising your preparation. We have given many Practice Sets. Try to solve those on your own and check the answers by clicking the Click here to Check Answer button. For Questions of other subjects other than Indian Polity Click here. MCQ model questions answers for various competitive questions for Indian Polity Subject. Indian Polity Objective Questions along with answers / solution / explanation is given below.
Syllabus of Indian Polity:
Features of Constitution
Preamble of Constitution
Fundamental Rights
Directive Principles of State Policy (DPSP)
Fundamental Duties
Centre State Relationship
Emergency Provisions
Presidents Vice-President Prime Minister Parliament
Supreme Court High Court
Panchayati Raj
Constitutional & Non-constitutional Bodies
Important Amendments of the Constitution
Indian Polity Practice Set:
There are 6 Practice Sets of Indian Polity MCQ Questions Given in the post. Click on the link below to open a particular practice set of Indian Polity MCQ Questions and Answers.
---
---
1) Which Article of the constitution of India accords special status of the state of Jammu and Kashmir?
a) 311
b) 324
c) 356
d) 370
---
2) What is the middle unit in the three-tier Panchayati Raj system?
a) Gram Panchayat
b) Panchayat Samiti
c) Zila Parishad
d) Union Board
---
3) Age of a candidate of contest parliamentary election should not be lesser than:
a) 18 years
b) 21 years
c) 25 years
d) 26 years
---
4) What is the scientific name of National Animal-tiger of India?
a) Panthera leo
b) Panthera tigris
c) Elephas indicus
d) Bos domesticus
---
5) The Election Commission was converted into 'Three Members Commission' in the following year:
a) 1987
b) 1988
c) 1989
d) 1990
---
6) Which of the following is a source of income of the Gram Panchayats?
a) Income Tax
b) Sales Tax
c) Professional Tax
d) Levy duties
---
7) In which year was High Court in Madras established?
a) 1862
b) 1871
c) 1881
d) 1891
---
8) The first woman to be the Speaker of Lok Sabha is—-
a) Vijay Lakshmi Pandit
b) Sarojini Naidu
c) Indira Gandhi
d) Meira Kumar
---
9) In the discharge of his functions, the Attorney General is assisted by :
(a) a Solicitor General
(b) two Solicitors-General and four Additional Solicitors-General
(c) a Solicitor General and two Additional Solicitors General
(d) None of the above
---
10) Lotteries organized by the government of a State come under:
(a) Union List
(b) State List
(c) Concurrent List
(d) no list mentioned in the Seventh Schedule
---
11) A change in distribution of powers between the Centre and the States can be done by:
(a) the Central Government
(b) the federating units by themselves
(c) amending the Constitution
(d) None of the above
---
12) In which respect have the Centre-State relations been specifically termed as 'municipal relations' ?
(a) Centre's control of the State in the legislative sphere
(b) Centre's control of the State in financial matters
(c) Centre's control of the State in administrative sector
(d) Centre's control of the State in planning process
---
13) Which of the following are true?
I. Only some States in India have Legislative Councils.
II. Some members of Legislative Councils are nominated.
III. Some members of Legislative Councils are directly elected by the people.
(a) I and II
(b) I and III
(c) II and III
(d) I, II and III
---
14) The Vidhan Sabha is :
(a) the permanent house' of State Legislature
(b) indirectly elected
(c) subject to dissolution
(d) has little importance in the State Government
---
15) Who among the following is a legal advisor of the State Government as provided by the Constitution?
(a) Public Prosecutor
(b) Solicitor General
(c) Advocate General
(d) Attorney General
---